LASU Admission List for 2020/2021 Academic Session has been released. This is for both Stream I and II candidates. See how to check your admission status below.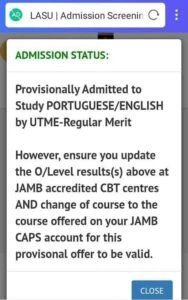 This is to inform all candidates who participated in Lagos State University (LASU) Post UTME Screening and have seen their result that the LASU First Batch Admission List for 2020/2021 Session is out.
The admission list is for both stream 1 (ie., normal utme candidates) and 2 candidates (still normal utme candidates but, but applied for Special programme). We will explain it well below.
Firstly, let's show you how to check your admission status.
How to Check LASU Admission List.
Follow the procedure below to check the admission list on the school portal: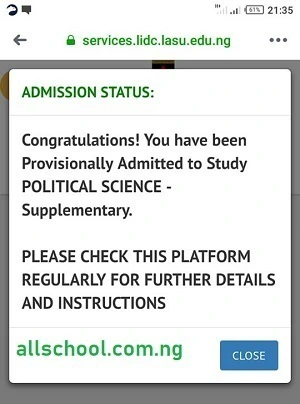 Step One: Visit services.lidc.lasu.edu.ng/admissionscreening/login.php
Step Two: Enter your JAMB registration number and your Surname in the space provided. Please make sure you use CAPITAL LETTERS FOR ALPHABETS IN YOUR REG. NUMBER.
Step Three: Click Login to access your dashboard
Locate the Check admission status and click on it. If admitted your will see the message in the image above. Otherwise, you won't!
Congratulations to candidates who made it to the Lagos State University Admission list 2020/2021 Session. Please do not forget to accept/reject their admission on JAMB CAPS PORTAL (once the admission reflects on jamb portal)
Very soon, the admission will reflect on the JAMB portal. When it does, you will follow the procedure below to check your admission status:
Login to your Jamb profile with your username and password.
Scroll down then locate and click the 'Check Admission Status' tab.
Then click on Admission Status,
You should then click on check admission status or
Click on Access my CAPS.
Select the three doted line at the top right-corner of your browser ( i.e. ⋮) and then tick 'Desktop site'. (you can click on the image for better view)
Then click on admission status
You will either see admission in progress check back later, or NOT ADMITTED, or CONGRATULATIONS.
If you see admission in progress, then congrats because you have 99.9% chances of seeing "CONGRATULATIONS…"
If what you saw is Not Admitted, don't panic yet, the admission is uploaded in batches. Just check back after some days/weeks.
And if you see CONGRATULATIONS… then jump up and dance because you have been offered admission.
If you are yet to be admitted, don't panic, you might still be admitted! More list will be released soon.
WHAT IS LASU STREAM (II) 2
Call it a SPECIAL PROGRAMME.
What you need to know about the special Programme .
The programme is a full-time programme and runs for four(4) years.
The programme uses the same curriculum with normal students.
At the end of the programme, students will be given two certificates.
(i.e Entrepreneurship certificate & B.Sc/B.A Certificate
The programme holds at Main Campus,Ojo , Lagos State.
The Only difference between the special Programme and the normal full time programme is the school fees.
The special Programme school fees is N150,000.00 per year while Normal Full time school fee remains N25,000
After the programme,students will be able to proceed for National Youth Service Corp(NYSC).
Q: I did not register for the stream II, will I gain admission? Ans: Yes you have chances, but the possibility is really slim
LASU Acceptance Fees FAQ
Q: Please I have been offered admission, can I pay my acceptance fee? Ans: For now, you can't pay! The acceptance fee payment have not yet started, once its starts, we will update this page.
Q: LASU have offered me admission but I have not yet seen the admission on JAMB Portal. Can I pay my acceptance fee?
Ans: When the candidates officially starts paying acceptance fee, you can pay yours even without seeing your details on JAMB Portal.
Hopefully before the payment commences, all names will be on JAMB Portal.
Do you still have any question? Well
NGstudents is here for you! Feel free to use the comment box below and ask us your question. We will be very pleased to answer you.